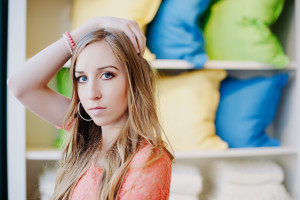 I was excited to sit down and have a conversation with Elysia Regina recently. Elysia has created her own clothing line company, Inspire Thread Company. I love the goal of Inspire Thread Company which is simply; "Every shirt in the Inspire Line is inspired after a young person doing something extraordinary. Inspire Thread Company aims to inspire young people to step outside of what society deems is this generation's potential, and to reach for their dreams." Elysia and her designers have come up with a number of great looking shirts over her first year. Once I saw this shirt I had to have it. Oh yeah, and she did all this between her 18th and 19th year of being alive. Impressive.
Elysia has recently finished writing her 7th novel (she wrote her first when she was 12) and is diving in to the publishing world head first. You can read some her writing on her blog and at her short story site plotbrownies.com. In the episode we talk about how she began her writing career and get in to a little nitty gritty regarding her writing methods and how she keeps her productivity up.
Elysia is also a Boston Celtics and New England Patriots fan…so you know she's a good person. 🙂
You can follow Elysia at any of the websites listed above or on Twitter.
Podcast: Play in new window | Download