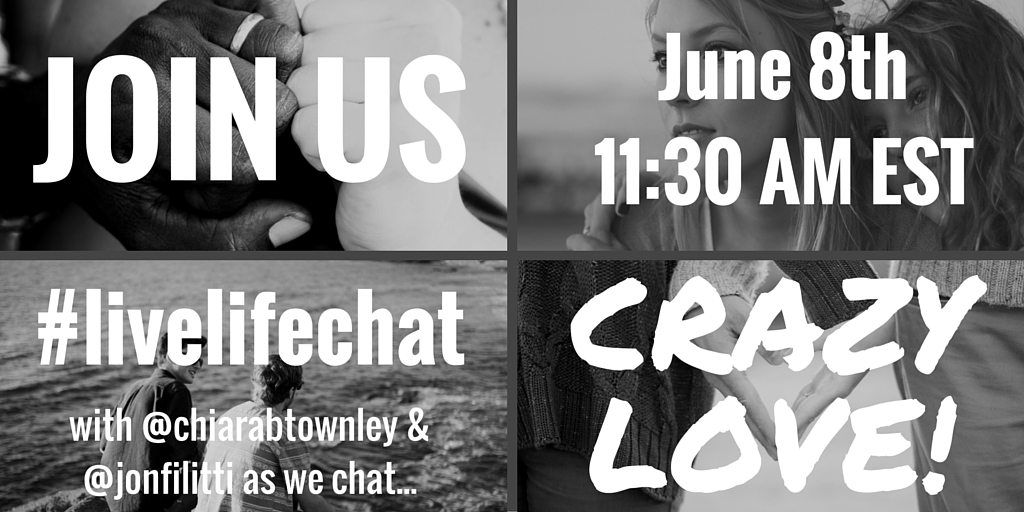 Chiara and I jump on the mic for a quick promotion of our upcoming Twitter chat for our new #LiveLifeChat event. Our first #LiveLifeChat will focus on "Crazy Love". Future #LiveLifeChat's will focus on other emotions and human conditions such as creativity, happiness, loss and more.
We wanted to start with Crazy Love since I met Chiara through her book "2 years 4 months 2 hours: From Italy to the world. A memoir of love and travel" and interviewed her for one of the early Mindsoak podcasts.
We're looking for some crazy love stories from around the world and will share them all with you as the Twitter chat unfolds. The most amazing answers and Crazy Love stories will get a chance to be interviewed for an episode of a Mindsoak podcast.
If you are new to the world of Twitter chats, here's a quick checklist to help you follow along:
On June 8th, sign in to Twitter a little before 11:30 AM EST.
Do a search on Twitter for #livelifechat
Follow along as we post questions and answer accordingly.
You can also go to websites like Tweetchat.com to make it easier to follow in your stream.
We're looking forward to seeing what everyone has to say about Crazy Love! See you in the Twitterverse!
Podcast: Play in new window | Download