In this month of Valentine's Day, love takes center stage. We turn to those we love and remind them of that love with cards, chocolate, and dinners in crowded restaurants packed with other lovers.
This month normally finds us contemplating our love for those right next to us—those we love every other day of the year. This year, though, another kind of love has been on my mind.
I've read a lot of Bible verses in my day, but my favorite has always been the most cliché. It's that quintessential wedding verse, 1 Corinthians 13. It's one of those verses that easily transcends Christianity and applies to all of us. I'm sure many of you have heard it.
Love is patient, love is kind. It does not envy, it does not boast, it is not proud. It does not dishonor others, it is not self-seeking, it is not easily angered, it keeps no record of wrongs. Love does not delight in evil but rejoices with the truth. It always protects, always trusts, always hopes, always perseveres.
In my experience, we tend to read this verse with ourselves in mind. We think of spouses, children, family and friends. So where does our love of country fit in? When I say love of country, I don't mean of the flag or the land on which we live. I mean the love of each other, the people with whom we share a communal identity. Are we being patient? Are we being kind? Do we suffer from envy and pride? Can we truly say we are not self-seeking? It's obvious we are easily angered. The yelling we see every day is plenty of evidence of that.
Do we rejoice in the truth? Are we hopeful?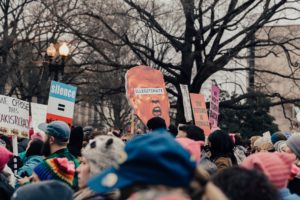 We are struggling to love each other right now, and I mean really struggling. According to the Pew Research Center, on the Republican side of the political spectrum, 49% say the Democratic Party makes them feel afraid, 46% say it makes them feel angry, and 57% say it makes them feel frustrated. Those numbers on the Democratic side are 55%, 47%, and 58% respectively.
Fear, anger, and frustration are true enemies of love, but they are winning the day.
You have to wonder how our situation might change if we all tried love instead of these other damaging emotions. The funny thing is love isn't actually that hard. All it takes is common ground. We all have that with one another. We have music, movies, viral videos, books, and our love of family, friends, and spouses. We desire safety, security, and companionship. We all have dreams for our future.
We also have hope.
Hope is one of those traits that makes us fundamentally human. Even in the darkest of times, we can imagine a brighter future. One poll at the beginning of this year from the Associated Press found that over half of us are hopeful for a better year, despite our fear, anger and frustration.
We know how love is supposed to look. We strive for it in our personal lives every day. Maybe we can all try applying the same rules of love we use in our personal lives to our love of country. Be patient with one another, and be kind. Replace envy with understanding, and pride with empathy. Help everyone maintain dignity and honor. Along with seeking for ourselves, seek for all. Guard against anger and look for the personal strengths in others. Seek truth in its purest form. Protect each other. Trust each other.
Never lose hope.
Always persevere.
More about Brad Cavanagh: I am a writer living in Dubuque, Iowa. At any given point in any day, you will find me thinking about how we might improve this world of ours. Some people might find that horribly depressing, but I don't. I find it invigorating. I imagine all of the ways we could be better to each other, and all of the ways we could solve the problems we have created.
The Realist Idealist is my journey toward finding solutions. It is my way of discovering and sharing what could be. I am also completing my first novel, Topos, exploring the origins of and solutions to poverty.